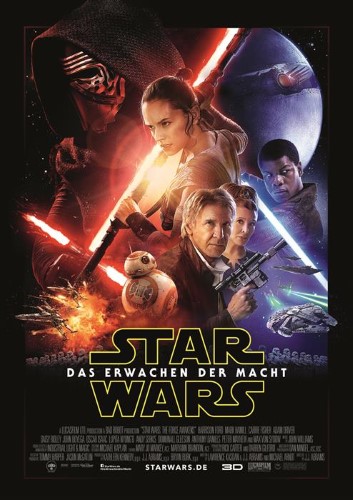 nur am 13. Dezember
Star Wars:
Das Erwachen der Macht
nur am 13. Dezember
Science-Fiction
USA
Regie: J.J. Abrams
Drehbuch: Lawrence Kasdan, J.J. Abrams
Darsteller: Harrison Ford, Carrie Fisher, Mark Hamill, Anthony Daniels, Peter Mayhew, Kenny Baker, John Boyega, Daisy Ridley, Adam Driver, Oscar Isaac, Andy Serkis, Max von Sydow
Siebtes Leinwandabenteuer der legendären "Star Wars"-Saga von Regisseur J.J. Abrams.
min. age: 12 years (FSK)
Further information
Minimum age for this film in accordance with FSK: 12 years This film has been approved by the FSK organisation for persons aged 12 years and over. Entrance to the cinema is subject to age checks. Access is refused to persons below the minimum age or without appropriate documentary proof of age.
Parental guidance (PG) Films with the rating "FSK 12" can be attended by children from 6 years of age, if they are accompanied by an authorised custodian. Custodial rights basically rest with the parents. Note: in this case a custodian authorised by the parents (with custodial rights) is not sufficient. Example: an adult uncle CANNOT attend an FSK 12 film with his 10-year nephew, even if he has been authorised in writing by parents with custodial rights to do so.
close
ACHTUNG: Nur Vorverkauf möglich (online oder Abendkasse im IMAX 3D Kino Sinsheim). Ab 13. Dezember bestehen die letzten fünf Sitzreihen (Loge) aus jeweils 33 Plätzen. Beachten Sie unsere Infografik um Sitzplätze in der Raummitte (Sitzplatznummern 16 und 17) zu buchen.
Buy tickets or make a reservation