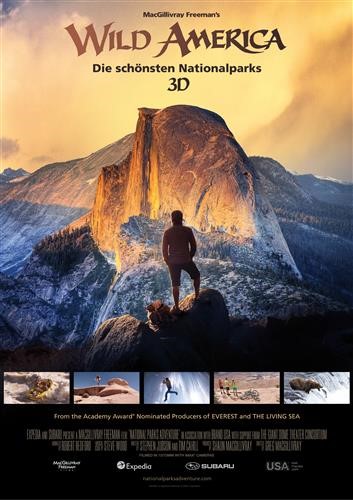 America Wild: National Parks Adventure
EN - Der Film Wild America - Die schönsten Nationalparks nimmt die Besucher mit auf eine faszinierende Entdeckungsreise durch die ursprünglichsten und spektakulärsten Landschaften der US-Amerikanischen Nationalparks. Stationen der Reise sind u.a. Yellowstone, der Glacier National Park, Yosemite und die Everglades. Durch die brandneue Laser 4k Technik des IMAX 3D Sinsheim entstehen auf der gigantischen Leinwand des IMAX Sinsheim dreidimensionale Bilder von bisher ungekannter Brillanz und Klarheit, die dem Besucher das Gefühl vermitteln, direkt am Ort des Geschehens zu sein. Der actiongeladene Film zeigt atemberaubende Flüge über kilometertiefe Canyons und zerklüftete Bergspitzen ebenso wie Wanderungen durch unberührte Landschaften, die wie aus einer anderen Welt erscheinen. Niemals zuvor war es möglich, einige der spektakulärsten Naturwunder so hautnah zu erleben, wie in Wild America - Die schönsten Nationalparks.
no minimum age required
Further information
This film has been approved by the FSK organisation without age restriction. Due to the strong audiovisual impact of the IMAX 3D laser 4 k cinema, we advise against bringing children of under 4 to a performance.
Please note the requirements of the law on the protection of minors:
children under the age of 14 are not allowed to attend a film screening if the film ends after 8 pm
14 - and 15-year old children may not attend a screening if it ends after 10 pm
16- and 17-year olds may not attend a screening if it ends after 12 pm
According to the Youth Protection Act, attending the above film screenings by underaged persons is only permitted if accompanied by a parent or guardian. This responsibility can be transferred by the parents to an adult third party. Please use the form below for this purpose:

Form - confirmation of the custodian
close