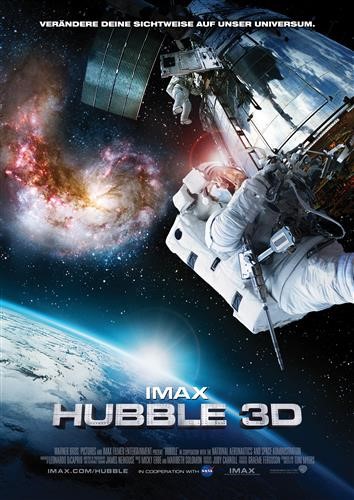 Hubble 3D
Zwei Jahrzehnte hat das im April 1990 von einem Space Shuttle in den erdnahen Orbit transportierte Weltraumteleskop Hubble der Menschheit unvergleichliche Einsichten in das Universum beschert - doch dann drohte das Auge ins All zu erblinden.
Die Kälte des Weltalls und die kosmische Strahlung hatten den elektronischen und mechanischen Steuerungselementen bis 2008 so sehr zugesetzt, dass ein weiterer Betrieb nicht mehr möglich war. Die Rettung brachte im Mai 2009 eine wagemutige Rettungsaktion, bei der sich sieben Astronauten auf die Reise zum Hubble Teleskop machten, um den unverstellten Blick ins All zu sichern.
Mit an Bord war eine IMAX 3D - Kamera, um dieses Abenteuer festzuhalten. Während das Space Shuttle Atlantis mit 28.000 Kilometern pro Stunde um die Erde rast, haben die Astronauten für eine erfolgreiche Rettung des Hubble nur eine einzige Chance. Warner Brothers und IMAX in Kooperation mit der NASA laden Sie ein, dieses Abenteuer auf der gigantischen IMAX 3D Leinwand mitzuerleben. "Hubble 3D - Das Auge ins Weltall" ist täglich im
IMAX 3D Laser 4k Kino
beim
Auto & Technik MUSEUM SINSHEIM
zu erleben!
no minimum age required
Further information
This film has been approved by the FSK organisation without age restriction. Due to the strong audiovisual impact of the IMAX 3D laser 4 k cinema, we advise against bringing children of under 4 to a performance.
Please note the requirements of the law on the protection of minors:
children under the age of 14 are not allowed to attend a film screening if the film ends after 8 pm
14 - and 15-year old children may not attend a screening if it ends after 10 pm
16- and 17-year olds may not attend a screening if it ends after 12 pm
According to the Youth Protection Act, attending the above film screenings by underaged persons is only permitted if accompanied by a parent or guardian. This responsibility can be transferred by the parents to an adult third party. Please use the form below for this purpose:

Form - confirmation of the custodian
close
Experience the gripping story - full of hope, crushing disappointment, dazzling ingenuity, bravery, and triumph in "Hubble 3D". Through the power of IMAX 3D, this giant-screen-film will enable movie-goers to journey through distant galaxies to explore the grandeur and mysteries of our celestial surroundings, and accompany spacewalking astronauts as they attempt the most difficult and important tasks in NASA's history.
The film will offer an inspiring and unique look into the Hubble Space Telescope's legacy and highlight its profound impact on the way we view the universe and ourselves.
Merken

Merken