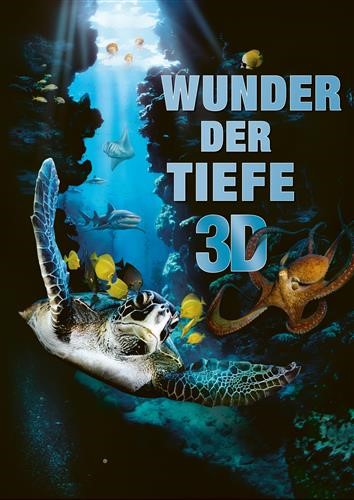 Deep Sea 3D
Halten Sie den Atem an - Das IMAX 3D Unterwasser-Abenteuer WUNDER DER TIEFE 3D transportiert Sie tief unter den Meeresspiegel. Durch die Magie des
IMAX 3D Laser 4k Kinos
beim
Auto & Technik MUSEUM SINSHEIM
werden Sie mit einzigartigen, gefährlichen und farbenprächtigen Meerestieren schwimmen und den wunderbaren Lebensraum des Meeres verstehen lernen.
WUNDER DER TIEFE 3D lässt die Besucher die Unterwasserbewohner von Angesicht zu Angesicht sehen und ihre ungewöhnlichen und erstaunlichen Verhaltensweisen beobachten. Sie gelangen an Orte, wo die meisten Menschen noch nie waren. Die zahllosen Meeresbewohner sind teilweise furchteinflößend, wunderbar aber auch lustig - eine lebendige Darstellung der erstaunlichen Vielfalt des Lebens.
no minimum age required
Further information
This film has been approved by the FSK organisation without age restriction. Due to the strong audiovisual impact of the IMAX 3D laser 4 k cinema, we advise against bringing children of under 4 to a performance.
Please note the requirements of the law on the protection of minors:
children under the age of 14 are not allowed to attend a film screening if the film ends after 8 pm
14 - and 15-year old children may not attend a screening if it ends after 10 pm
16- and 17-year olds may not attend a screening if it ends after 12 pm
According to the Youth Protection Act, attending the above film screenings by underaged persons is only permitted if accompanied by a parent or guardian. This responsibility can be transferred by the parents to an adult third party. Please use the form below for this purpose:

Form - confirmation of the custodian
close
 Hold your breath - the new IMAX 3D underwater adventure "Deep Sea 3D" will transport you to deep below sea-level. Thanks to the magic of IMAX 3D you will swim together with unique, dangerous and gloriously colourful marine creatures and learn to know the wonderful habiat of the sea. You will be captivated by unprecedented views of the underwater world

Film is shown in German language.
Merken